Sod / Turf
Country Green Lawns
Country Green Turf Farms elevates our sod above others throughout the growing process. We follow strict quality control practices to make sure that our soil remains as "clean" as possible. Weeds are controlled around the borders of our fields to minimize introduction of undesired seeds into our growing areas.
Add fantastic soil, the best available seed quality, and meticulous care to our uncompromising soil preparation and you get the healthiest, most weed-free sod on the market.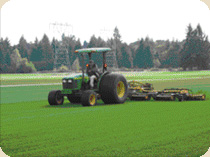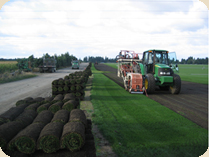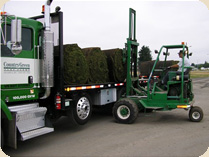 PERFECT BLEND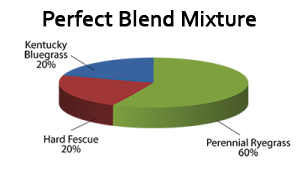 Country Green Turf Farms Perfect Blend is the best sod selection for performance and appearance on any maintained turfgrass site such as home lawns, commercial buildings, and public or park facilities.
Perfect Blend's three-way mix of Pacific Northwest has a proven turfgrass species, grown from the highest quality seed, on some of the region's best soils for sod production. Because Perfect Blend is a mix of three species types, it possesses the ability to adapt to variations of use, growing conditions, and maintenance practices often found in a single landscaping site.
This product contains a netting which adds strength to the sod for harvest and installation as well as discourages mole activity in your new lawn.
Each pallet of Perfect Blend is supplied with starter fertilizer that is formulated for new sod establishment and is pre-measured to cover 600 square feet (one pallet). Each 10 square foot roll measures 2′ X 5'. Perfect Blend Submittal PDF