Get Reliable
Hydroseeding Service
Today!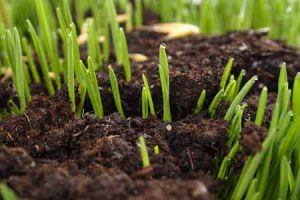 Hydroseeding is an extremely efficient and reliable way to put in a new lawn. At Country Green Turf Farms, we offer superior seed mixtures that are tailored to a large variety of specific needs. Having started in 1988, we have the experience, technology, and dedicated professionals needed to provide the hydroseeding that Lakewood residents count on for high-quality and gorgeous results.
Our seed mixtures and hydroseeding process is specifically designed to create turfgrass that thrives in the Lakewood climate. We have a mixture for just about every scenario from shaded areas or full sunlight to durable grass for high traffic areas and slow-growing, low-maintenance grass. We can accommodate everything from residential backyards to large-scale sports arenas and parks.
Our knowledgeable professionals take the time to walk you through all of our options. We give you as much time as you need, helping you narrow down the right choice. Once you have a seed selection that you feel confident with; we move on to the hydroseeding process. We use a wood fiber mulch that is specifically designed to help your seeds flourish. Our hydroseeding process ensures an even layering of seed and mulch slurry, guaranteed to create a lush green lawn.
What Is Hydroseeding?
Hydroseeding is a grass seeding method that involves applying a seed mixture to soil. The seed mixture is actually a slurry of grass seed, wood fibers, water, fertilizer, and a sticky agent called a tackifier that helps the mixture stay in place until germination. This is particularly helpful on slopes or places like Lakewood, where it's both hilly and rainy.
The seed mixture is sprayed onto the lawn by a commercial hydroseeder – a machine designed to evenly cover large areas. Hydroseeding a lawn will yield excellent seed growth, making it an ideal choice for residents who own ranches, farms, pastures, and property with high acreage.
We Are Your Trusted
Hydroseeding Company
In Lakewood
We strive for excellence in all we do because we care about our product and our neighbors in Lakewood. We want to contribute to nice green, open spaces for people to enjoy for sports, recreation, family time, or whatever else you have in mind. We have spent years perfecting our seeds and farming turf that people can count on. This dedication to quality products and our hydroseeding process has given us a reputation as a trusted name for turfgrass in Lakewood and the surrounding areas.
As a local, family-owned company, we have been perfecting turf for three generations. Over the years, we have stayed current on technology, such as hydroseeding and processes. We have stayed with tried and true efforts while also updating to include advancements that help turfgrass thrive.
After your hydroseeding is complete, we ensure you have everything you need to nurture the growing seeds into a full lawn. We leave detailed aftercare instructions and carefully walk you through them, ensuring you have all your questions answered and feel good about understanding the aftercare process. We are also here to help if and when new questions arise. Just give us a call!
What Type Of Grass Seed Is Used In Hydroseeding?
At Country Green Turf Farms, we offer a large variety of grass seed mixtures. Our team is happy to work with you and help determine the best mixture for your property. Depending on the conditions in your area, certain mixtures will yield better results. Here is a list of the hydroseeding mixtures that we offer:
SPECIAL SUN MIX – This is great for overseeding and is the best choice for most lawns; excellent fine-bladed mix for full sun areas.
SPECIAL SHADE SEED MIXTURE – This contains a higher amount of Fescue for shade tolerance; not as wear tolerant as mixes with higher amounts of Perennial Ryegrass; performs better under lower maintenance than other lawn mixes.
60/20/20 LAWN MIX –  This is the same mixture as our Perfect Green sod. It is great for full sun or moderate shade areas but is not suitable for overseeding.
SPORTS FIELD MIX – This is great for full sun and high traffic areas. It is used primarily on ball fields and parks.
LOWGROW (ORCHARD) SEED MIXTURE – This is a popular mix with orchard growers due to its lower mowing requirements, lower-growing seed mix, tolerance for poorer quality soils, less water, and fertilizer (once established).
D.O.T. EROSION CONTROL MIXTURE – This mixture is specified by the Washington State Department of Transportation for roadsides.
COUNTRY GREEN EROSION CONTROL MIXTURE – This is an erosion control mixture for slopes and/or areas where cover is not desired.
BIOSWALE SEED MIXTURE – This is a commercial mix for bioswales, slopes, retention ponds, etc.
WETLAND SEED MIXTURE – This is a commercial mix for wetter sites, retention ponds, etc.
HORSE PASTURE SEED MIXTURE – This contains all forage grasses, a mixture designed for horses (no clover). And it adapts well to soil and climate conditions in Western Washington.
ALL-WAY PASTURE MIXTURE – This is for all-purpose pasture areas in Western Washington.
How Much Should I Water My Hydroseeded Lawn?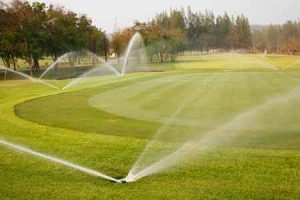 Proper watering of your hydroseeded lawn is essential for germination and starting your lawn off correctly. It is critical to follow these watering instructions.
Water frequently enough to keep moisture in the soil. Depending on weather, temperature, and soil type, your lawn may need to be watered several times per day. Cool, damp days may only need one watering per day, whereas hot summer days may need watering 3-4 times per day. It may be helpful to use an electronic water timer if no one is home during the day.
Too little water slows the establishment of the grass. If the seed starts to germinate and are allowed to dry out, the seedlings can die.
Too much water can cause puddling and washouts. Once germinated, too much water can cause the grass seedlings to have a weak root system (due to insufficient oxygen being supplied to the roots). This slows establishment and can result in a sparse lawn.
After the first or second mowing, reduce the watering frequency to 1-3 times per week, depending on weather conditions. Watering less frequently and for a longer period of time promotes deeper rooting.
The seed should germinate in 5-10 days under optimum conditions. Under adverse conditions, it may take 14-21 days to germinate.
Beautiful And Efficient
Lawn Hydroseeding
For Your Property
At Country Green Turf Farms, we only use high-grade products applied by experienced technicians who arrive with the appropriate seed mixture for your property. Many residents of Lakewood and the surrounding areas enjoy hydroseeding for its numerous benefits and advantages, including:
Cost-Effective – Hydroseeding saves time and money, making it the most economical option for establishing turf. It is much less labor-intensive than laying sod or hand-seeding.
Full Coverage – The hydroseeding process ensures that the seed is laid evenly and in a consistent layer. This creates a lush, thick lawn without seams or patches of missing grass.
Healthy Turf – Because hydroseeding allows seeds to root deeply in the prepared soil, rather than being transplanted, it comes in strong, healthy, and well-adjusted to the soil and growing conditions of the environment where it is planted.
Quick Process – While hydroseeding does need to grow in, unlike the instant-lawn appeal of sod, the installation is much faster, and the wet, well-nourished seeds are set to begin growing faster than in a hand-seeded process.
Water Retention – Hydroseeding includes water in the process. The mulch slurry and sealant ensure the seeds are well watered for fast germination and a high survival rate of each plant.
Erosion Control – Hydroseeding is the preferred process for sloped surfaces. The moist slurry binds with the soil's surface, holding it in place while the plants take root.
Non-Toxic – Our hydroseeding slurry is made up of natural wood pulp fibers, seed, and water. It is safe for children and pets to be around as well as safe for the environment.
What Is The Best Time Of Year To Hydroseed?
Fall is the recommended time to install a seeded lawn because the weather is cooler, and there is lower weed growth. Spring is the second-best time. Cool-weather is prevalent, but this is the season when many weeds germinate and will compete with your newly seeded lawn. You may also seed during the summer months, but it will be essential to keep sufficient water (moist to at least 1 inch below the surface, preferably 4-6 inches below the surface) on the lawn.
When You Need
Hydroseeding Near Me
Give Us A Call!
When you need hydroseeding in the Lakewood area, give us a call. We strive to provide all of our residential, commercial, and agricultural clients with the highest quality hydroseeding services. Our technicians perform all of our hydroseeding. We'll transport a specially prepared slurry of seed mixture that has the correct percentages of different grass types, fertilizer to help it grow, and the tackifier. All of these components combine to yield the highest-quality results, making it the preferred choice for large coverage. If you need hydroseeding for your property in Lakewood don't hesitate to give us a call. Our knowledgeable team is here to help!