Get High-Quality
Sod Near Me
Today!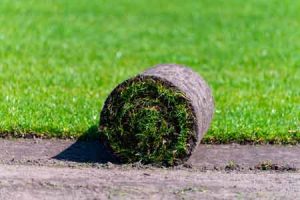 At Country Green Turf Farms, we offer a variety of high-quality sod mixtures to provide you with a beautiful and lush lawn. We cater to various properties, including residential, commercial, athletic fields, pastures, and more. Our team of sod professionals has the knowledge and experience needed to help you find the perfect sod mixture for your application. In addition to helping you select the right grass turf mix for your sod, we also include the right type of fertilizer for the aftercare of your sod. As a local sod and hydroseeding company, we understand how to create the custom sod mixtures that thrive in the Pacific Northwest climate. We guarantee the quality of our sod by carefully selecting the seed mixture and caring for the soil to ensure weed-free and lush grass for your property.
Is Sod Hard To Maintain?
A common question that many people have is whether they should seed their property or install sod. The answer to this really depends on several factors, including your personal preference, property type, timeframe, slope and erosion levels, and the intended application, whether it's for a residential lawn, sports field, golf course, or a pasture. Our team of experts is happy to discuss these options with you and help determine the best option for your property. When it comes to the maintenance of the sod, there are a few essential tasks. After installation, sufficient and timely watering to ensure the soil doesn't dry out is essential. After about 2-3 weeks, the grassroots will have established, and your new lawn is ready to go. Sod is a very simple and quick way to get a beautiful, lush grass lawn.
Fertilizing your sod is essential to keeping it healthy and luscious. Sod should be fertilized during installation, then again the next month. After that, your lawn should only require fertilization every other month, not including the winter months where fertilization is not needed.
Additionally, you should begin mowing your new sod when the height has reached about 2-½ to 3-inches, which can be anywhere from a week to three weeks after installation. A good rule of thumb is to never mow off more than one-third of the height of the grass in any one mowing. By setting your mowing schedule on the one-third height rule, instead of a time schedule, you will help your lawn stay healthy and dense.
Country Green Turf Farms is a locally-owned, family business that takes great pride in providing our customers with the highest quality sod available. We take soil preparation very seriously. It is one of the key factors to great sod, and it makes us stand out above the rest. We are always happy to go the extra mile to help our customers with their sod selection and installation.
We offer a variety of sod mixtures to ensure that your lawn thrives in the environmental conditions of your property. Our Perfect Blend Mixture is a combination of three different kinds of grass that create highly adaptable sod wonderful for most home lawns, parks, and business landscaping. Our Green Sports Mixture is a durable blend of Kentucky bluegrass varieties that is perfect for playgrounds, sports fields, and golf courses. Our Shade Tolerant Turf Mixture is designed for areas that do not receive a full day of sunlight. This sod also requires less fertilizing and water, making it a perfect, low-maintenance option. At Country Green Turf Farms, our team has the expert knowledge to help you determine the best sod for your property.
How often do you water new sod?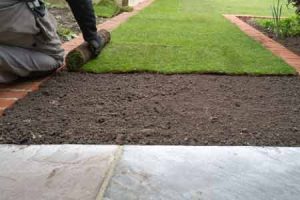 After your new sod has been installed, it is vital to maintain a generous watering schedule for the first month to ensure the roots become well established in the soil. Especially during hot, dry weather, plenty of water is required. After the first month has passed by, you can reduce your watering frequency to a few times throughout the week. If you notice pale patches throughout your lawn, it is a sign that the grass is not receiving enough moisture and needs to be thoroughly watered.
How long can sod sit before laying?
Because our sod is cut fresh shortly before delivery, it must be installed as quickly as possible on the day of delivery. As a freshly cut plant, it is highly sensitive to heat, sun exposure, and lack of access to moisture. Give us a call today for a sod estimate!
Quick And Reliable
Sod Delivery
Near Renton!
Our team at Country Green Turf Farms works hard to provide Renton residents with the highest quality sod products and customer service available. By delivering sod directly to your property, we ensure freshness and customer satisfaction. From small residential properties to entire sports fields, our company has the knowledge and experience to provide you with the best sod mixture for your needs. If you have any questions about our delivery services, please feel free to give us a call!
How much sod do I need?
The amount of sod that is required will depend entirely on the size of the property. Country Green Turf Farms can deliver the amount of sod you need. If you have questions about the amount of sod you will need for your project, give us a call. Our team at Country Green Turf Farms is happy to help you calculate the appropriate amount needed to ensure even coverage.
Looking For A
Sod Supplier Near Me?
Give Us A Call!
Installing sod is such a great way to bring life to any yard, field, or other property. At Country Green Turf Farms, we have been in business since 1988, providing the residents of Renton with high-quality sod and hydroseeding services. With a combined 660-acre inventory of sod, we are confident that we will have a mixture to fit your needs. Our team is here to help whether you need sod for partial shade or a durable mixture for a sports field. Give us a call today!
Frequently Asked Sod Questions
Is sod a type of grass?
Yes, sod is a type of grass that is grown on a layer of soil and held together by its roots. Sod is typically used for lawn and turf installation to provide an instant green lawn.
When is the best time to install sod?
The best time to install sod is during the cooler months of spring and fall. This is because the cooler weather helps the sod to establish roots more quickly without the stress of high heat and dry conditions.
How do I prepare the soil for sod installation?
The soil should be prepared by removing any rocks, weeds, and debris, and then grading the area to ensure a smooth surface. The soil should be loosened to a depth of at least six inches, and then fertilized and watered prior to sod installation.
How often should I water my new sod?
New sod should be watered daily for the first two weeks after installation, and then gradually reduced to a frequency of once or twice a week. The soil should be kept moist but not soggy to promote healthy root growth.
How long does it take for new sod to establish?
New sod typically takes around two to three weeks to establish roots. It is important to avoid heavy foot traffic on the new sod until it has fully established.
---