Hydroseeding for Bellevue Fields, Lawns, Pastures, and More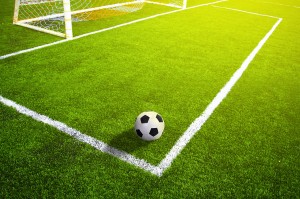 Hydroseeding comes with the benefit of being highly efficient as well as a successful way to lay grass. We offer superior seed mixtures that are tailored to a large variety of specific needs. This seed is then mixed with a mulch to create a slurry that nourishes the seed. With experience going back to 1988, Country Green Turf Farms has the experience, the technology, and the dedicated professionals to use hydroseeding that Bellevue counts on for quality and a gorgeous finished-product.
Our seed mixtures and hydroseeding process is specifically designed to create turfgrass that thrives in the Bellevue climate. Whether you have some shade or constant direct sunlight, whether you need grass that stands up to rough sports, or whether you need slower-growing, low-water grass, we have a mixture for that. We are able to accommodate everything from residential backyards to large-scale sports arenas and parks.
Our knowledgeable professionals take the time to walk you through all the options. We give you as much time as you need, helping you narrow down the right option. Once you have a seed selection you feel confident with, we move on to the hydroseeding process. We use a wood fiber mulch that is specifically designed to help you seeds flourish. Our hydroseeding process ensures an even layering of seed and mulch slurry which is guaranteed to create a lush green lawn.
Can You Hydroseed Over Existing Grass?
Absolutely! Our crew prepares the soil for hydroseed by tilling and clearing it first, spraying the slurry, and watering it afterward. We follow up to make sure the seeds have the right amount of moisture so they can germinate successfully.
We strive for excellence in all we do because we care about our product and our neighbors in Bellevue. We want to contribute to nice green, open spaces for people to enjoy for sports, recreation, family time, or whatever else you have in mind. We have spent years perfecting our seeds and farming turf that people can count on. This dedication to quality products and our hydroseeding process has given us a reputation as a trusted name for turfgrass in Bellevue and the surrounding areas.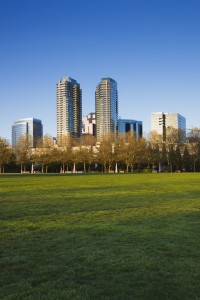 As a local, family-owned company, we have been perfecting turf for three generations. Over the years, we have stayed current on technology, such as hydroseeding, and processes. We have stayed with efforts that are tried and true while also updating to include advancements that help turfgrass thrive.
After your hydroseeding is complete, we ensure you have everything you need to nurture the growing seeds into a full lawn. We leave detailed aftercare instructions and carefully walk you through them, making sure you have all your questions answered and feel good about understanding the aftercare process. We are also here to help if and when new questions arise. Just give us a call!
See also these other services we offer to the Bellevue community:
Contact us today for information about hydroseeding Bellevue has come to know and trust for fast, flourishing turfgrass installation.