King County Home, Business, or Recreation Area Sod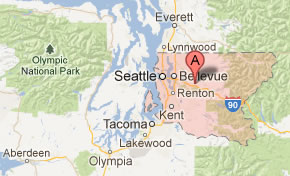 Are you searching for the perfect sod to complete your home, business, or recreation area? Many people are searching from Seattle to Mercer Island to Federal Way, because it's not easy to get the right mix of seed for the type of lawn you want in your specific growing conditions. There are several benefits to having a healthy lawn beyond just the way it looks. At Country Green Turf Farms, we have products that can help you achieve the lawn of your dreams, ranging from sod and hydroseed to maintenance tools, rentals, and contractor services. No matter what kind of lawn you want in King County, we can help.
AUBURN
One of the first benefits of a beautiful lawn is its ability to provide for recreational activities. After all, playing sports like football or soccer on an asphalt surface would certainly be different—and a lot more painful. Whether you work for the city of Auburn, a school, or a recreational facility, getting grass is one of the first considerations you should make for your sports field area.
BELLEVUE
In addition to providing a great surface to play sports on, it's also a great place for spectators to spend time watching sports, concerts, and other outdoor activities. The key is to have the right kind of sports field, and whether you live in Bellevue, Auburn, or any other city in King County, Country Green Turf Farms can help you discover exactly the kind of seed, sod, or hydroseed you need to make the most of your sports and recreation areas.
BOTHELL
Compared with other outdoor lawn options, well-maintained turfgrass can be an affordable option for playgrounds, parks, and your yard at home. In addition to saving you money by not installing more expensive landscaping, a beautiful lawn can provide you with a sense of pride and ownership at your Bothell home, business, or city recreation area. Communities with plenty of open space, big yards with lots of green grass, and fields for recreation are naturally going to be more desirable than those covered in concrete and asphalt, lacking any greenery to brighten the area. These areas are often more desirable for buyers and businesses, which leads to higher property values. With the sod and seed options offered at Country Green Turf Farms, you can get a beautiful green mixture designed to adapt perfectly to your Western Washington climate.
BURIEN
In a place like Burien, quality of life, creativity, and expression are all important. Grass, sod, and other green-scaping designs can help to spur creativity and improve quality of life. Whether it's through the ability to get outside and participate in physical activity, or the beauty that can be created by pairing some of the best sod, lawn seed, or hydroseed mixtures from Country Green Turf Farms, having green lawns around your neighborhoods significantly improves your quality of life and allows landscapers to express their creativity for others to see and enjoy.
COVINGTON
In the cities of King County such as Covington, where you are more likely to find pastures and agricultural land, grass is tremendously beneficial. First and foremost, a good landscaping job that includes the right volume of grass, or a pasture mix from Country Green Turf Farms, can help to reduce dust and disease in the area. Dusty landscapes tend to contribute to higher levels of respiratory problems, which can be uncomfortable for you and your family. In addition, dust may contain small particulates that spread disease, including the hantavirus, influenza, and even tuberculosis. If you live out in a more rural area, one of the best ways to prevent it from becoming too dusty, and protect your family's health, is to install sod or seed that will grow into a beautiful grassy area. For larger areas you can choose one of Country Green Turf Farm's pasture mixes that doesn't require much ongoing maintenance, but still controls the dust and dirt levels.
DES MOINES
Living in a place like Des Moines, Washington can sometimes be a little bit risky—after all, with the water so nearby and the Washington coast climate that already has slightly higher levels of humidity, you can be at a greater risk for flooding. Grass is one of the best ways to get natural flood control. Healthy soil is aerated and porous, which can absorb some of the moisture when it's coming in high volume, whether as a result of a rising tide from the water or a significant amount of moisture from rain showers.
FEDERAL WAY
Federal Way can benefit from beautiful green grass as it acts as a buffer between you and your neighbors, or between businesses. Some city plans include buildings stacked practically on top of each other, but in order to beautify the land and neighborhoods and ensure you and your family have plenty of room to spread out and play, it's critical that you have open space between your home and the other surround structures. That zone could include thick grass or even pasture lands if you are lucky enough to live in an area with more open space. Whatever you choose, Country Green Turf Farm's mixtures can help you create your own area with landscaping.
ISSAQUAH
Grass is also a beneficial way to create a wildlife habitat. We can help homeowners and business owners in areas like Issaquah, near several state parks and state forests, to build a beautiful lawn that will attract wildlife and help you preserve the natural beauty of Washington state and its species. If you are a wildlife enthusiast, the right landscaping design from Country Green Turf Farms can help you bring out the wildlife that lives in your area while still maintaining a beautiful look and feel for your home.
KENMORE
Turfgrass is one of the best ways to preserve, recharge, and regenerate groundwater supplies. In cities like Kenmore, you can help by planting grass and other landscaping. These plants help to capture rainwater when it comes in the Pacific Northwest, then funnel the rainwater into the supply of groundwater so it can gradually make its way back to the rivers and streams around the town. Without a healthy lawn from Country Green Turf Farms, that water often runs down sewer drainage systems and avoids the beneficial cycle of recharging groundwater supplies. In addition, this water picks up pollutants which end up in rivers, streams, and groundwater. A healthy lawn doesn't merely store these pollutants, its diverse microbial ecosystem is able to break them down.
KENT
Mental health and physical activity are some additional benefits of having grass planted around your home or your community in areas served by Country Green Turf Farms, such as Kent. The presence of beautiful green grass often helps us feel more positive about an area, and have a better general outlook on the home, business, or park. Without lush, green grass from exceptional sources like Country Green Turf Farms, it's more difficult to promote healthy physical activity in your community, but by planting the right mix of grassy areas, recreational fields for community sports, golf courses, and yards around your home, you can help beautify your community and boost mental health.
MAPLE VALLEY
Another reason many communities like to plant grass and foster open space is the social harmony and productivity that comes from it. In cities like Maple valley, where our grassturf professionals helps homeowners, city officials and business owners create visually attractive grass areas for decoration, or functional grass areas for recreational sports—communities can come together and promote harmony and productivity.
MERCER ISLAND
Another functional reason to have Country Green come and create a landscaping design for your home or business is erosion control. The right kind of grass or other seed mixture can help slow down the natural process of erosion in areas like Mercer Island, where you are surrounded by saltwater from Puget Sound on all sides.
REDMOND
If your city is along several major roadways, such as Redmond, it's important that you promote roadside safety as much as possible. One effective way to do this is through planting grass in areas in and around the roadways. We can help city officials in areas like Redmond to more effectively control road safety by planting erosion control seed mixtures along steep slopes on the side of the road, or just creating a grassy buffer on the sides of roads to help motorists avoid major damage to their vehicles and significant injuries. Our seed mixtures even meet all specifications of the Washington State Department of Transportation.
RENTON
When it comes to playgrounds, family activities, and landscaping, nothing completes your yard better than lush, thick grass. Whether you choose to go with our top-quality sod grown with precision and care, or you prefer to grow your own with a high-quality seed mix, your lawn can help decrease the risk of injury in areas where children play, and encourage you to get out more and spend time with the family. Our turf professionals help people in cities like Renton get a beautiful lawn that compliments all their landscaping materials, whether it's in the backyard of your home or at the local city park.
SAMMAMISH
Many people have been concerned about the effects of climate change, but one benefit of grass is its ability to sequester carbon and reduce excess carbon dioxide in the air that contributes to a rise in overall global temperatures. Having healthy lawns and pastures means carbon dioxide is actually drawn into the soil and out of the atmosphere. We have several different grass and pasture mixes for residents of cities like Sammamish to help you plant a yard that can reduce carbon in the air and helps reduce the effects of climate change.
SEATAC
If you suffer from seasonal allergies, you know how miserable it can get with pollen and allergens in the air. In order to reduce your reaction to pollen, you can start by eliminating places where allergens grow. We help people in the SeaTac area to plant healthy lawns where they may otherwise have allergens growing in the form of weeds that make life miserable for allergy sufferers.
SEATTLE
Big cities like Seattle are also an ideal place to take advantage of some of the functional benefits of grass. At the top of this list is the ability for grass to help with heat dissipation and air pollution control. While Seattle is a beautiful city, it suffers from some of the same difficulties that many large metropolitan areas do—plenty of commercial buildings, and not as much open space. Even planting a small amount of grass can help to create a little oasis of pollution control and heat relief in the largest of cities, which also reduces the need for using cooling systems and air conditioners.
SHORELINE
In addition to the aesthetic and functional benefits of grass, its environmental impact is significant. Grass can help restore soils that have otherwise been robbed of their nutrients by bringing back a healthy microbial ecosystem. It can also help produce more oxygen, something many people overlook, believing that only trees can produce enough oxygen to be worthwhile. In fact, when we plant lawns and grass in cities like Shorline, an acre of grass can meet the oxygen needs of dozens of people each day. While the Pacific Northwest is not at nearly as high a risk for wildfires as some of its neighbors in the West, there is still a risk of fire in the area. Grass can help prevent man-made fires and wildfires from destroying important buildings, homes, and structures by creating a defensible space, giving firefighters a buffer zone to work with before the fires spread.
TUKWILA
We serve homes, businesses, and recreational facilities throughout Tukwila to bring you the most beautiful grass, sod, seed, and hydroseed for whatever your individual needs are. Talk to us at Country Green Turf Farms to find out how you can get a beautiful lawn or pasture and start enjoying the many benefits grass can provide.
King County