Sod Olympia, Lacey, Tumwater in Thurston County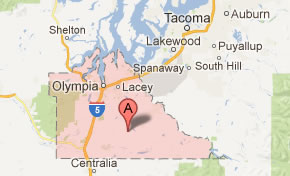 Country Green Turf Farms has been helping homeowners, businesses, and governments get healthy, beautiful lawns for many years. Whether you are a farmer who needs a pasture mix, a facilities supervisor who needs new sod for your sports field, or a homeowner who wants to use hydroseeding to efficiently cultivate a new yard, we can help. We have a wide variety of seed and sod products that we deliver to residents of Thurston County in and around Olympia, as well as rental equipment and contractor services to help you plant and grow a lush, green lawn.

LACEY
Getting the perfect lawn, pasture is the key to having a thriving open space that will survive the changing weather in Lacey. We know that it can be difficult to know what kind of seed to choose. That's why we deliver high-quality seed mixtures to Lacey homes and businesses. There are different types of turfgrass seed that work in different conditions, depending on whether you have full sun, partial-sun, or lots of shade. We also have seed mixtures for areas where you do not want to mow as much, that will receive less water, or where you have poor soil.
OLYMPIA
In addition to grass seed mixtures, Country Green Turf Farms offers erosion prevention mixtures in Olympia and the surround areas. Washington has several areas where erosion prevention is necessary, including roadsides—our mixtures meet all specifications of the Washington State Department of Transportation—slopes, retention ponds, and wetland areas. The specialized conditions found at these sites make it essential to get the right mix for maximum effectiveness and growth.
TUMWATER
We also work with cities, counties, businesses, and homeowners who want a beautiful mix to enhance the look of a yard without all the work required to tend to a garden. Our mixtures of annuals, biennials, and perennials bring color and life to any yard in the Tumwater area. If you are looking for something that provides more groundcover, our grass mixtures combine the groundcover qualities of non-aggressive grasses for a fantastic result.
Thurston County