Pierce County Sod that Delivers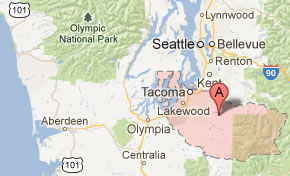 The turf you choose can make a big difference in how well a lawn or yard lives up to your expectations. When you need grass in place quickly, whether it's for your home, a business, a recreational field, or anything else, choosing great sod or hydroseeding can help you create the lawn you need. Country Green Turf Farms delivers the highest quality sod to cities and counties all over Washington, including Pierce County and the surrounding areas. If you live in Tacoma or Puyallup and you want beautiful, lush, green grass, sod from Country Green is your best choice.

BONNEY LAKE
Great sod extends far beyond the grass itself, into the soil and preparation. Country Green Turf Farms takes the time to create the perfect conditions for beautiful grass to grow, even if it does take a little more effort. We begin with field fumigation, which removes all the weed seeds, rhizomes, tubers, stolons, and plant pathogens are gone from the soil. That way when we deliver our product to customers in Bonney Lake, they get top-quality grass that is not already infested with weeds and other pathogens.
LAKEWOOD
Once the soil is cleared of pathogens, we keep it clean with strict quality control, controlling the weeds around the borders of our sod farm, and keeping out all those undesirable seeds so all you get is pure, green, lush grass. For our clients in Lakewood and all over Pierce County, the meticulous care and unwillingness to compromise on quality mean a fantastic turfgrass lawn that will remain beautiful for years to come.
PUYALLUP
We offer several different sod and seed mixtures to satisfy whatever turf needs you may have. Mixes like our Perfect Blend sod is designed to look beautiful whether it's used heavily in places like city parks, commercial lawns, and recreational fields, or in your own backyard in Puyallup.
TACOMA
The mixture of three different Pacific Northwest grass species makes it easily adaptable to the changing weather conditions in the cities of Pierce County, whether you are near the slopes of Mount Rainier or on the coast in Tacoma. Even if you are trying to landscape an area that has several different conditions (sun, shade, water levels), and different maintenance schedules (such as an office park), we have mixtures perfect for each situation. In addition, we have Green Sport sod that provides superior durability and can stand up to even the toughest wear and tear from sports teams, golf courses, playgrounds, and other recreational fields.
UNIVERSITY PLACE
If you are looking for the right lawn seed and prefer to grow your own or have it hydroseeded, we also have a wide variety of grass species for any conditions or situation. Our different lawn mixtures can be specifically chosen for full sun, full shade, or even mixed conditions. On the shores of the bay in University Place, we can help you find just the right lawn mixture to maintain public parks and open spaces or get a beautiful green lawn for your home. No matter what kind of lawn you are looking for, Country Green Turf Farms has an ideal mixture for your soil conditions, watering needs, sun factors, and the level of wear and tear. Let us help you find the perfect seed or sod to make your home, commercial, or recreation area complete.
Pierce County