Beautiful Sod You Can Trust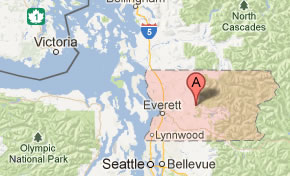 Experiencing a beautiful lawn is more than just something you wish for—it's something you can achieve with the right lawn mixture, sod, turfgrass, or hydroseeding. The key to getting the perfect turfgrass is to work with a company that understands the land and the topography and can customize your lawn, giving you the best possible grass to thrive where it is planted. We deliver sod to Snohomish County residents in western cities like Marysville and Everett, and to more rural areas in the east as well.

ARLINGTON
Part of designing your perfect lawn requires knowing the different types of soil and weather conditions it needs to endure. Climate and soil can change from city to city, since the Snohomish County landscape ranges from the sandy beaches, rolling hills and farmlands in the west to the dense forest and mountainous terrain in the east near Mount Baker. We help clients in Arlington discover the types of soil that do well in the climate of the northern county areas, as well as clients who have homes on the coastline in places such as Edmonds. No matter where you live, we have sod, seed, or hydroseed that can work for your needs.
EDMONDS
EVERETT
Our sod is the highest quality available, starting with the way we prepare our soil. The field fumigation techniques we utilize ensure clean soil, free from pathogens and weed seeds that can eventually take over and destroy turf. For cities like Everett that have a significant system of parks and open spaces to maintain, our Green Sport sod is designed to withstand even the highest levels of wear and tear that parks and recreational facilities, sports fields, and other high-traffic lawns experience. We also have a Perfect Blend mixture that combines three indigenous species of grass from the Pacific Northwest, all exceptionally hardy and prepared to adapt to the climate of this region. Even if you have an area where you experience several different lawn conditions or usage levels, this sod will continue looking beautiful year after year.
SOD IN GOLD BAR, WASHINGTON
We've been providing Gold Bar, Washington with sod rolls since the beginning. We make sure the natural turf we provide is clean and only the most vibrant green. Residents of Gold Bar are blessed with a natural source of consistent watering. Take advantage of the climate and give us a call for any amount of high-quality sod you need.
LAKE STEVENS
When your Lake Stevens lawn project requires hydroseeding, County Green Turf Farms is the best source for the right mix of seeds to fill your yard. The superiority of our hydroseed begins with the quality of seeds chosen for the mixtures. We mix that with real wood mulch, which is proven as one of the best fertilizers for our climate and soils in the Pacific Northwest. Next, we have skilled and experienced staff who can ensure proper hydroseeding application with the correct volume of seed for whatever your lawn needs are, including home lawns, commercial applications, and recreational facilities such as golf courses or city parks.
LYNNWOOD
Country Green Turf Farms has the perfect seed mixtures for any application site. Whether you need a beautiful lawn for your home in Lynnwood, a sports field for your local city park, or you're looking to seed a field for horses or other pasture purposes, we have your solution. We also have a fantastic seed mixture that provides you with ground cover in cases where you want beautiful landscaping without all the hassle of watering and maintenance for a more traditional lawn.
MARYSVILLE
For residents and landscapers in areas like Marysville, we offer all the tools you need to create and maintain beautiful lawns. When you are looking for equipment rentals, such as spreaders, or you need maintenance tools for tilling, aerating, and top dressing, we've got you covered. We have big roll sod for creating new lawns in large areas, plus slice seeding and Brillion drill seeding to overseed an existing sports field, golf course, or other green space without stripping or tilling, and other tools for general maintenance.
SOD FOR MONROE
We provide sod and turf products for Monroe, Washington. If you need some sod in Monroe, give us a call today!
In cities like Monroe, where you often find more pastures and open fields than the more suburban areas of the county, the needs for grass and landscaping are often different. If you have a beautiful section of land you would like to use for a pasture, whether it's a horse pasture, or an all-purpose pasture, we have the right seed mix for you. We work to combine some of the most effective and adaptable seeds that horses enjoy (with no clover), that will grow in the changing soil and climate conditions throughout the year in Western Washington. Our All-Way Pasture Mix includes several species of grass, including clover, and is designed for more comprehensive pastures and open lands. In addition, if you have an orchard, we have a specialized grass seed mixture that doesn't require significant amounts of water or mowing as a low-key option.
MUKILTEO
Out near the sandy shores of Puget Sound in Mukilteo, you may be in the market for some erosion prevention, and we have that as well. If you're looking for the right mixture of seed for grass, ground cover, that will help cement your soil and keep it from eroding, you can choose from short-term and long-term options that effectively control your soil for several years, on many different slope grades.
No matter what you're looking for to create that perfect lawn, we have the tools and products that can give you beautiful, green landscaping.
Snohomish County